Protecting native wildlife and dogs on the NZ coastline, in partnership with the Department of Conservation.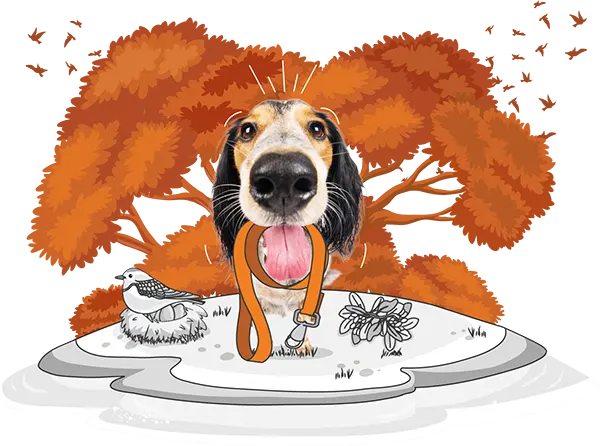 The Lead the Way Programme
PD Insurance is the exclusive Auckland partner for the Department of Conservation's Lead the Way programme that's helping protect native coastal wildlife and keep dogs and people safe. As a passionate animal welfare advocate, we proudly support its crucial wildlife protection work.
Through Lead the Way, we've committed to educating pet parents on how to keep their dogs and wildlife safe while enjoying Aotearoa's coastline. We're raising awareness of the risks off-lead dogs present to native wildlife and other dogs, plus what pet parents can do to safeguard their dogs, other animals and people. The importance of keeping your dog on a lead where appropriate is just one part of this, albeit a key one.
Get involved and help keep our coast safe for those who call it home! First, watch our launch event video here.

Do the quiz + grab an exclusive lead
Did you know many native coastal species are in decline? The kororā/little penguins and the tūturiwhatu/NZ dotterel are just two of these.
Pet parents are often unaware of the risks their fur kids present to coastal wildlife and other dogs. Many dogs have an innate tendency to stalk and injure wildlife, even when they're only playing. They can also unintentionally cause significant distress or worse to other dogs enjoying the outdoors. 
In addition, there are plenty of seemingly safe things along the coast that can actually cause harm to your pup when they're out and about.
That's why PD Insurance and the Department of Conservation (DOC) have joined forces to share how you and your dog can help Auckland's native wildlife and other dog families. A key component of our Lead the Way education programme is a simple 'Wildlife Wise' quiz that tests your knowledge on the dangers wildlife and dogs face on the coast. Visit the DOC 'Dogs on Beaches' webpage to study up before taking our Lead the Way quiz.
Once completed you'll not only have a much better understanding of how to keep your dog, other people and native wildlife safe, you'll be able to purchase an exclusive Lead the Way lead. This comes in four colours…
Locally made and of superior quality, the Lead the Way lead colours are like a traffic light system:
Green

– means your dog is happy to be around other dogs and people.

Orange – means your dog isn't always comfortable around other dogs and people.
Red – means your dog does not like socialising with unfamiliar dogs or people.
Yellow – means your dog is disabled in some way, so is vulnerable to some interactions.
With your pup sporting one of these leads you'll provide others enjoying the Auckland coastline a clear visual clue on its temperament.
Our media releases and blog posts
To mark World Oceans Day in June, DOC and PD Insurance joined the renowned SEA LIFE Kelly Tarlton's Aquarium to demonstrate how dogs and sea creatures can live in harmony, even when they meet unexpectedly. The event explored the relationship between the marine and canine species, environmental impacts of the mismanagement of pets at and near the beach, and the dangers dogs can face along the coastline too. Several media attended, including the AM TV show for live crosses, Radio New Zealand and 95bFM.
At 10 months into our partnership, PD Insurance and DOC joined forces on a double stand at the huge Auckland Pet Expo on 29 and 30 April 2023. Attendees heard all about our Lead the Way programme and various at-risk species plus our special product offers, event competition and more. The wider event showcased anything and everything for pet enthusiasts, including a wide variety of animals including dogs, cats, birds, chins, guinea pigs, rabbits, rats and reptiles. 
PD Insurance and DOC collaborated once again to raise awareness for Lead the Way, this time on a big stand at the Dog Day Out in Snells Beach on Saturday 10 December 2022. Plenty of dog owners joined us at Googall Reserve for the charity day, which featured a dog show competition, doggy market stalls and dress-ups activities, hot dogs galore and more. Visit here for more info.
Christchurch Pet and Animal Expo
There wasn't any stopping this Pet Expo from going ahead! Despite our partnership of Lead the Way being Auckland-only, both PD and DOC see great benefit in spreading word of the national programme however possible. So we shared a stand at the Christchurch Pet and Animal Expo on 3 and 4 December 2022 to educate locals about the importance of Lead the Way, being wildlife wise and safeguarding pet health.
Cancelled: Auckland Pet and Animal Expo
PD Insurance and DOC were going to join forces at the Auckland Pet and Animal Expo on 15 and 16 October, to educate visitors about all things Lead the Way and the importance of safeguarding animal health. However, the Pet Expo has been cancelled until further notice. So, watch this space…
Launch Event - Lead the Way Auckland
Held on 25 August 2022, aligned with International Dog Day on 26 August, our Lead the Way Auckland launch explored the relationship between wildlife and dogs, the environmental impact of uncontrolled dogs, and the dangers dogs can also encounter along the coast. Media, industry influencers and other attendees experienced a thought-provoking discussion featuring Auckland Zoo, BirdCare Aotearoa, Healthy Pets New Zealand and Canine by Nature, as well as a dog behaviour training session plus speeches from PD Insurance, DOC and Auckland Council. Watch the launch event video here.
Event photos and handy images
The Mailroom Communications