What do you get when you combine two of the best things in life? You get a cat movie! That's right, we all know cats are one of the best things in life. Another is dogs, of course, but for the purpose of this article we're mostly looking at cats.
Now onto the second best thing…home streaming! Since the start of the pandemic – and with it our ebb and flow of lockdown – online streaming has soared to new heights in popularity.
For those of you who can already smell the popcorn, we've compiled a list of four of New Zealand's most searched cat movies. However, do be warned that even though they're the most searched, only two are good. It could be said the other two are pretty much flops. But don't take our word for it, we'll tell you what critics say.
Find out what our searched cat movie choices are in little time. And once you're done, you can make your selection for a good night on the couch. With your cat of course!
Here goes…
4 of New Zealand's most searched cat movies
Here's a shortlist so you know what to expect. Scroll down to find out more about each film and plan your weekend watchlist accordingly.
In no particular order, here are New Zealand's most searched cat movies:
Cats. Critics say boo
Bob The Street Cat. Critics say whoohoo!
Cats and Dogs. Critics say whoohoo!
Cat in The Hat. Critics say boo
While we're on the topic of cat movies, read about cat TV options your cat will love.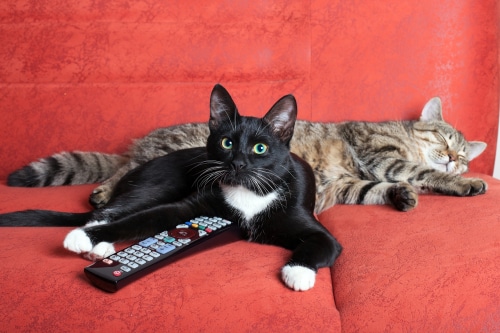 The obvious cat movie: 'Cats'
When you're talking cats + movie, it goes without saying that Cats the movie is on the list. It's not, however, on the top dogs' list. In fact, the film was a near total failure… Critics simply didn't dig it. We're not exaggerating. They've actually put it on the list of worst films ever made. To top things off it also bombed at the box office, not even bringing in enough to cover costs.
So while all this is a very sad tail, and we're not actually suggesting you watch this one, it's nevertheless notable for its cats…ahem…cast. The film stars Rebel Wilson, Taylor Swift, Judi Dench, Idris Alba, Sir Ian McKellen, Jason Derulo, Idris Elba, Francesca Hayward and Jennifer Hudson.
There is one thing people do agree to like about the film and that's the music. One song in particular has received special attention. To save you from having to watch the whole film to get to hear it, you can watch this official song video here:
Feelgood cat movie: 'Bob The Street Cat'
Bob the street cat is a real-life story about a stray ginger cat who becomes best friends with a man named James Bowen. Bowen was living partially on the streets himself and wrestling with addiction when he found Bob. Bob was wounded and thin, Bowen was virtually penniless. Despite this, he took Bob to the SPCA and paid for the cat's antibiotic treatment.
A week later, he released the ginger tabby back to the freedom of the streets but Bob wasn't having any of that. He had decided Bowen was his cat dad and jumped onto the bus after him. Bowen took to the arrangement and started taking Bob with him everywhere, from busking to selling the Big Issue.
The pair became an instant sensation. Bob would sit on Bowen's shoulders, and spectators started filming them and uploading the videos to YouTube. Soon after, Bowen made the choice to come clean from addiction – he credits this success to his feline friend Bob. Clearly, having someone to love who needed him was as beneficial to Bowen as it was to Bob.
Bowen started writing books about his adventures with Bob. He wrote about going busking, having Christmas on the streets and more. The books, now bestsellers, have been made into two films that star Bob as himself.
Sadly, Bob – who was mostly an indoor cat in his later life – got out one day and was killed by a passing car. James Bowen will forever remember and cherish the time they spent together and everything Bob meant to him. While we strongly recommend watching the official film, here's a short documentary of the real-life duo to get you started:
A fun cat movie about '

Cats and Dogs

'
Cats and dogs is a great family film starring our favourites: cats and dogs! While real life cats and dogs can be (and often are) friends the film's plot reveals them as longstanding rivals dating back to Ancient Egypt, when cats ruled the world.
Mr. Tinkles, a white Persian cat, is a mastermind secret agent. And he's hatched a plan to make all humans allergic to dogs. Meanwhile, despite his high-up secret agent status, at home he still gets dressed up in embarrassing outfits by his humans. (Speaking of catwalk-ready outfits, read our article on dress up your pet day.)

The film plot thickens through lots of twists and turns. Buddy the bloodhound is captured by a gang of cat agents while on a mission. Lou, a Beagle puppy 'civilian' is mistaken as a secret agent by the dogs, after he accidentally detonates a bomb set up by the cats. The pets wage high-tech secret agent war on one other, unnoticed by their human owners who have no idea of what's going on right under our noses.
Until the big reveal, that is. Watch the trailer here:
Dr. Seuss' 'The Cat in the Hat'
Who doesn't love Dr. Seuss? We've probably all got at least one Dr. Seuss book on our bookshelf, and it turns out the book may be preferable to this cat movie…
The Cat in the Hat film features Dakota Fanning as a child actor alongside her film brother played by Spencer Breslin. These two are plagued by the annoying neighbour (Alec Baldwin) until the Cat in the Hat (Mike Myers) steps in and, well, makes a fantastical mess of things. Before finally cleaning it all up again.
The world of the film is set in a surreal world made up mostly of greens and purples. Of course, brother and sister Conrad and Sally end up in a whirlwind experience, led by the Cat in the Hat.
Although the film is pretty interesting to look at and Dakota Fanning is a riveting actress, this is also one of the 'dud' films. It's been widely criticised for not being faithful to the original story and for having poor humour. It barely made back costs, and to boot, Seuss's widow Audrey Geisel decided to veto any further live adaptions.
OK, so, maybe when it comes to the Cat in the Hat, nothing beats reading the book! But first, watch the trailer and see if you agree with critics:
Cat insurance for your cat movie star
When it comes to your ab-suh-loot all-time favourite cat movie, we're betting it's a home video of your very own cat..? And in addition to playing a leading role in your life and your heart, your cat needs you. It needs you for company, friendship and protection. A great way to protect your cat is through an affordable, reliable and easy-to-use online cat insurance pawlicy.
What are you waiting for – your first month is free when you buy online. Go on, click on the orange button below and get a quote now.