COVID-19 vaccination for pets – is this something pet parents may need to start considering? It's a question being raised by scientists and vets alike, and research has already begun. What we know for sure is that pets and other animals do get the virus.
To date, although people have given cats and dogs coronavirus (as in SARS-CoV-2, the virus that causes COVID-19) they haven't transmitted it back to us. Talk about unconditional love.
What is the role of vaccines for COVID-19 in animals? How will it contribute to pet and human safety during the pandemic? Let's find out.
COVID-19 vaccination for pets: status update
The World Health Organisation (WHO) director general, Tedros Adhanom Ghebreyesus says we could get the pandemic under control by 2022. If we vaccinate older people and health workers by the first quarter of 2021, we'll be well on course.
Of course, pets are people too (well, sort of). They can also catch coronavirus, in the form of SARS-CoV-2. And when they do, they also need to be socially isolated. Happily, if they have symptoms they're usually mild, and from what we've read at the time of writing only cats have been symptomatic.
But there is speculation that when a virus leaps between species this opens new avenues for widespread transmission. Which is why some governments are already developing a covid-19 vaccination for pets. More about that further down.
First, let's look at human to animal transmission…
Coronavirus human to animal transmission
As we explore COVID-19 vaccination for pets, Let's first look at how the virus spreads. When a virus jumps between species, it can genetically mutate, creating new strains. The new strains can be more infectious, more virulent, or more resistant to vaccines. This is one of the main considerations around the topic of human to animal transmission.
In addition, when a virus has a larger variety of hosts, this increases its opportunity for viral spread. For example, in Denmark, SARS-CoV-2 is spreading within the mink population. As a result, the farmed mink act as a "reservoir" for the virus. In other words, the virus has plenty of healthy hosts and can continue to spread and survive. But if that reservoir wall breaks…
This could easily cause spill-over and spill-back. In other words, coronavirus can pass from humans to animals (spill-over), then from animals to humans (spill-back) and so on. Luckily, pets like cats and dogs don't appear to pass the virus back to people.
And interestingly, the virus behaves differently in different species. For instance, while cats and dogs can both get the virus, only cats can transmit it – and only to other cats.
Here's a table showing the way coronavirus behaves in different animals. This information is from the World Organisation for Animal Health.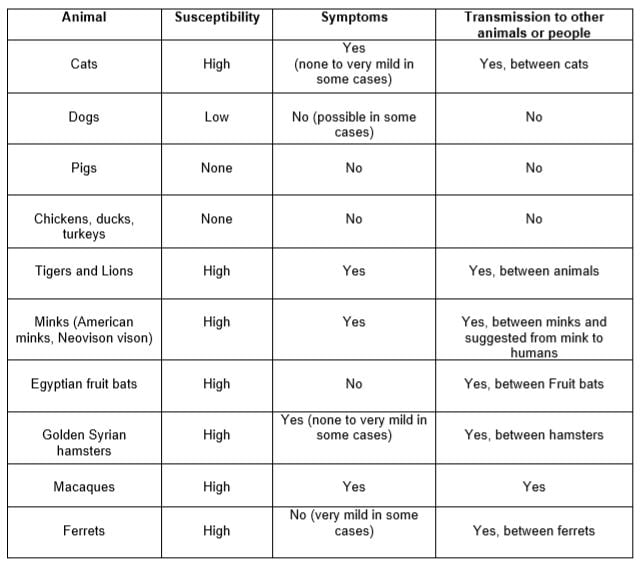 COVID-19 vaccination for pets: What's the verdict
The conclusion for now, is that we don't need a COVID-19 vaccination for pets aka a SARS-CoV-2 vaccination 😊! Mainly because the cause of spread in humans is human contact. We don't know how many cats and dogs have had SARS-CoV-2 but the infection rate could be similar to humans.
The main thing is, our fur kids just don't pose a threat to us. In fact, pet love helps us navigate COVID.
That said, a type of COVID-19 vaccination for pets is being developed in Russia and clinical trials are underway. The vaccine could help protect pets, farmed animals and zoo animals.
Of course, it could help humans too. This is because humans may be able to get coronavirus from some animals, like mink. With a SARS-CoV-2 vaccination for pets we could potentially stop it in its tracks before it leaps to us, and before it mutates.
Pet insurance helps keep our pets safe
Now you know about COVID-19 vaccination for pets, but there are plenty of other things than can go wrong for your furry family members. Accidents, illnesses, infections, allergies, dental issues and more… Luckily, our pet insurance can help.
Why not take two minutes to get a free quote now?