Pets are family, so we think they deserve a little gift under the Christmas tree too! These days, ethical considerations are high priority for a lot of consumers – and that doesn't just extend to things like travel destinations and beauty products. We've created a guide to ethical Christmas gifts for pets so you can make sustainable, ethically sourced gifts a priority for them also.


Here's how to spoil your furry friends this December.
What are ethical Christmas gifts for pets?
What counts as an ethical Christmas gift for pets? While different people might have different definitions, we've included products and suggestions in this guide which treat animals, humans, and the planet, and the environment with love and respect.
Ultimately, any ethical Christmas gift for a pet should be something which tries to make the world a safer place for our furry friends, without harming our planet.
Holiday gifts for food-loving pets
Christmas is definitely a time for a bit of over-indulgence. Though you have to watch your pet's diet (check out an article on diabetes in pets here), any list of ethical gifts for pets is likely to include some fun food items.
If you want to treat your dog or cat to some new food or delicious treats, there are a few things to look out for. These include:
Palm oil free – palm oil is linked to deforestation – which negatively impacts animal populations – and human rights breaches. Although there are some sustainably sourced palm oil options, avoiding it completely might be safer.
Not tested on animals – plenty of foods and treats are still tested on animals. The specifics of this would vary from company to company, and although some organisations might not do any invasive tests or procedures, there are concerns around the welfare of lab animals.
MSC certified –if your chosen brand of animal food contains fish, remember that not all fishing is sustainable. Choosing a brand which is MSC certified will help to ensure that your choice of dog and cat food supports sustainable fishing practices.
Packaging – when choosing your pet's Christmas treats, try to buy in bulk where possible to reduce packaging waste. Anything that is easily recyclable will be preferable. Tin cans are one of the least sustainable choices available. Another thing to avoid is single serve portions of food as these are more wasteful of resources.
HUHA ethical gifts
HUHA, New Zealand's leading no-kill animal shelter, has an ethical gift store offering a range of pet treats. These include:

Gift store manager Christy Dobbs says, "Our customers are really concerned with buying ethically sourced food for pets. They care about the quality of ingredients in the treats or toys they're gifting their pet. You want to shop for your pet in a similar way you'd shop for the rest of the family. So applying those same ethically-focused principles makes sense."
"HUHA has carefully created guidelines for products we accept into our store. This is to save our customers time, and they can be confident we've done the work in ensuring products are made ethically. For example, our store's products are cruelty-free, use renewable resources, and employees are remunerated appropriately – which means no slave or child labour. Plus, we're vegan so we don't use animal products. We also try to source locally so there's less of an environmental footprint.
And that, present-keen pet parents, is what to look for when buying ethical Christmas gifts for pets!
Vegan pet food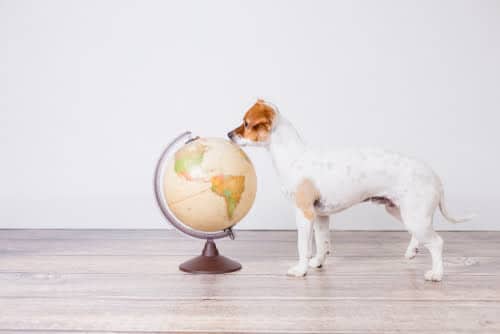 Often, you will see vegan pet foods advertised when it comes to ethical foods. Do your research and speak with your vet before making a decision on this for your pet. It may or may not be the healthy choice for them.
Why? Cats are considered 'obligate carnivores' and may struggle to adapt to a vegan diet, as outlined by NZ Herald here. And although it's said many dogs can technically be healthy on a vegan diet, it may not be right for your dog.
Switching your pet onto a vegan diet in the name of ethics without a full understanding can have health consequences. Read more about a vegan diet in dogs here and in cats here.
Looking for vegetarian dog food as a Christmas gift for your pup? Check out Addiction's dog biscuits here. It's made in New Zealand too, so you'll be supporting a local ethical business.
If you want to stay close to home (though across the ditch), another popular vegan pet food company is Veganpet.
Other ethical Christmas gifts for pets
What would a guide to ethical gifts for pets be without any mention of pampering gifts? These days there's certainly a range of eco pet care products that'll get them feeling all loved up this festive season.
While your dog mightn't like the idea of a long soak in the bath, they still need a wash and here's some cruelty-free soap for the task. You could also wrap up some of this Whoop Itch'n'Ouch Keep Calm Lotion, made with NZ Manuka and Lavendar essential oils.
Does your cat not miaow for a pedicure? Not surprising and no problem – here are 10 ways to pamper your cat. But if you're looking for ethical pamper products for your puss, that can be a little tricky. We did find this compostable Millans Cat Litter that's made from recycled paper. You fur baby's furry bits will no doubt be impressed.
Pet beds
What about a seriously soft and comfy new bed for your pet, made out of eco-friendly or recycled materials? The BecoBed Paddington from Dog Sense NZ is made from eco-friendly materials. By that we mean the covers are "a mix of cotton and hemp and then stuffed with a finely shredded, recycled polypropylene (mainly bottles and bottle caps!)".
And if you don't mind buying wool products, Tara Treasures swears by its Cat Cave that's "ethically hand-felted from 100% New Zealand wool".
Pet toys and collars
We all know that most pets love toys, so anything to play with is always a Christmas winner. Plenty of toys for pets now come filled with much more eco-friendly alternatives to traditional soft stuffing.
A couple of suggestions are this Mousie catnip toy made in Cantebury and this dog collar handcrafted by Kiwi Hound.
Remember that you can also make use of secondhand items. We promise that your dog won't mind getting an outgrown teddy bear or a tennis player's collection of older balls under the tree this year!
Where to buy ethical gifts for pets
By lowering your Christmas buying carbon footprint, supporting local small businesses contributes to sustainable and ethical buying practices. If you happen to have a local store which can meet your needs, or know of a small business that offers amazing pet care products or treats then we would always encourage buying local.

If you're looking to buy online or aren't sure quite where to start, these are some of our favourite resources local to NZ. Who knew that grabbing ethical Christmas gifts for pets would be so much easier than finding a gift for your fussy sibling?
And while you're at it, nab the 2021 HUHA calendar for some fresh furry faces every month of the year. Surely that's one of the best ethical Christmas gifts for pets? As with all products sold on the HUHA ethical gift store, all the money goes back into helping rescue, rehabilitate and rehome New Zealand animals in need…
And finally, what's another ethical gift for pets this Christmas? A pet insurance policy which means your fur baby will always be able to rely on their human for medical treatment when they need it most.
More pets with pet insurance means more feel good moments for the planet, in our opinion.