When you think about pet insurance you usually think about getting cover for treating medical emergencies, but what about pet dental insurance? Different insurance providers manage their pet dental insurance differently – if they offer it at all.
It's important to understand if it's included in a provider's regular plan or as an add-on, or if it's simply not part of their offering. If it is, you'll need to properly understand how much is covered.
Sometimes you'll need to pay extra to get pet dental insurance cover with your policy. It might very well be worth paying that little bit extra now to save in the long run.
According to research reported on by pet retail store Animates, 80% of dogs and cats in New Zealand over the age of three years have some form of dental disease. That's four in five pets that will require dental treatment.
The PD Insurance Deluxe plan covers a range of dental treatments for your pet, capped at an annual limit. Getting your pet proper dental treatment can give them a happier, longer life. We think it should be a part of your routine pet care alongside other important things like their pet vaccinations.
Common dental problems
Apart from breaking their tooth on something hard they've decided to chomp on, there are other potential pet dental issues. If 4 in 5 dogs or cats in New Zealand are going to suffer from pet dental issues, what are these fairly common problems you're likely to find in your furbaby?
Gingivitis
A very common gum disease that can cause irritation, redness and swelling around the base of the teeth. If untreated, it can progress into periodontal disease.
Periodontal disease
Infection and inflammation of the periodontium (the tissues surrounding the tooth). Periodontal disease starts as gingivitis.
Abscesses and tooth infection
Infected, pus-filled pockets found in the mouth or the root of the teeth. They can be caused by infection, bite wounds, and more.
Oral tumours (benign or malignant)
Benign and malignant tumours of the oral cavity account for 3% to 12% of all tumours in cats, and 6% of all tumours in dogs, so these masses are relatively common in pets.
Retained deciduous (milk) teeth
When the milk/baby tooth remains even after the adult tooth has come through.
Feline tooth resorption
A condition where the cat's body begins breaking down and absorbing teeth. It affects over 50% of cats eventually.
Feline ulcerative stomatitis
Although quite rare, this is a very severe and painful inflammatory condition which causes ulcers in the cat's mouth and gums.
You might be wondering how to check if your pooch or kitty is affected by dental disease. Here are some signs to check for: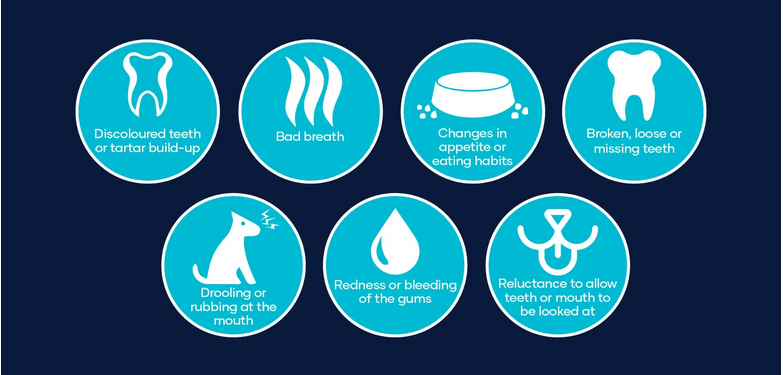 Having a pet dental insurance plan in place will help give you a soft landing when the vet bill comes. And if you haven't figured it out yet, pet healthcare can become expensive really quick.
So now the all-important question, if you were to get pet dental insurance, what does it cover?
What exactly does pet dental insurance cover?
There are many different kinds of pet insurance policies available. Different policies are there to give you options and the flexibility to be able to choose what works for you.
What's important here is that it's usually the more expensive policies that will include pet dental insurance. The more comprehensive an insurance policy's coverage is, the more it likely costs.
However, you might find that there are optional add-ons for some of the other policies that will allow you to choose some added extras to include and pet dental insurance may be one of them. This will be a conversation between you and your insurance provider. We can, however, speak about what we cover.
What we cover
PD Insurance's Deluxe dog insurance and cat insurance plans includes cover (up to the defined benefit limit) for:
Abscesses
Gingivitis
Tooth removal where medically required, for:
– Cavities
– Tooth fracture
– Dental disease as a result of infection
– Retained deciduous teeth
All these things have one thing in common in that they're not cosmetic. Pet dental insurance usually won't cover cosmetic procedures or routine checks and cleaning.
That's why it's a good idea to learn about teeth cleaning to try to prevent having to pay for these expenses out of pocket. If you want to give your pet a proper tooth cleaning regime, read our tips for looking after cat teeth and all about dog teeth cleaning.
Like we mentioned before, there are always plenty of options on the table for you to choose the policy that works best for you. The best thing you can do is find and read your insurance policy wording. This document outlines exactly what's covered and not covered by the insurance policy so you don't get a surprise down the road.
Insurance to put a smile on their dial
PD Insurance loves pups and kittens just as much as you do! We offer every new member one or more months of pet insurance cover for free, with puppies and kittens scoring even more than that.
Even better, the younger they are when you start the cover the less likely they'll have any pre-existing conditions – which means you'll enjoy broader coverage. That's a win-win!