A trip to Taupo is never a bad idea, whether you're heading there for a summer vacay or a romantic long winter weekend. COVID travel restrictions allowing, of course. And since our pets have been with us through thick and thin over the last couple of years of pandemic madness, maybe they should come along too. Luckily, pet friendly accommodation in Taupo isn't so hard to come by.
Especially now, since we've gathered some of the absolute best pet friendly accommodation in Taupo for you below. Now there's no need to trawl individual listings to see if Fido can join you for a roadtrip – you can get right to booking then planning and packing.
The best pet friendly accommodation in Taupo
When you book your pet friendly accommodation in Taupo, make sure you let the owners or managers know you'll be bringing a pet along. It's good manners, and it means your hosts can prepare for you plus your furry companions. And occasionally, a pet-friendly stay attracts a small extra fee.
Be sure to also read pet safety while driving so your cats, dogs, or even feathered friends will be safe if you're travelling via road.
Here are four of the best options for pet friendly accommodation in Taupo:
1. Hilton Lake Taupo
If you want to stay in luxury, and want your best friend to join you, you'll be delighted to know that luxury hotel chain Hilton has a hotel on Lake Taupo. And according to a recent Facebook post they now have some pet friendly accommodation options in Taupo.
So, your best friend can join you at a world-recognised hotel right in New Zealand. Cool, right?
It's predictably gorgeous, and was built in the 19th century but has lovely modern rooms. The best of both worlds! You can enjoy a lakeside view from the bistro restaurant which features local and seasonal produce, as well as take advantage of the tennis courts, swimming pool, and gym.
2. Ann's Place
Got a big group of humans and pets and struggling to find suitable pet friendly accommodation in Taupo? Ann's Place might just fit the bill.
This lockwood AirBnb can sleep up to nine people in three bedrooms, and is fully fenced and safe for pets. It has all the comforts of home thanks to a washing machine, fully-equipped kitchen, comfy beds and spacious showers. And you can bring your pooches along – which honestly, is the ultimate home comfort, right?
There's a view over the bay, plenty of parking space, a BBQ area, and easy access to the mountain for hikes and day trips. Plus the home features a lovely wood burner you can light and gather around on those cooler winter days. Just bring the dog jackets and coats along too!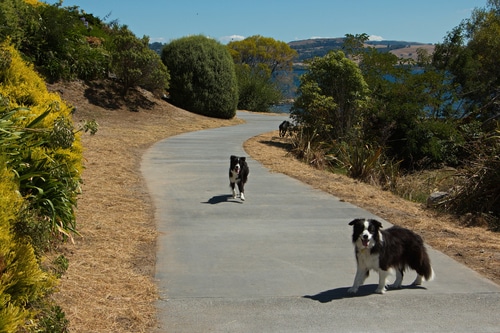 3. Fred&Donz Bed and Breakfast
For more laidback luxury, or perhaps a romantic retreat complete with both your partner and your pets, you could consider Fred&Donz Bed and Breakfast. Guests love it, which is why it's scored 9.3 on Booking.com.
And it seems the animals love it too. A quick glance at reviews for this pet-friendly accommodation in Taupo makes it clear dogs are not only welcome, but encouraged. If your dog is the friendly type they'll love playing with resident pup Elvis.
Humans get some perks too – breakfast is included, rooms come complete with a patio or terrace positioned in the shade of the overhanging trees and it's a great location for exploring Taupo. Plus, guests say the hosts are incredibly accommodating and helpful.
4. Cascades Lakefront Motel
Cascades Lakefront Motel is a well-known and popular pet friendly accommodation spot in Taupo. And it's not too difficult to see why.
They aren't exaggerating when they say lakefront. You can turn up with your dogs, settle in, then head down to the water without even crossing a road. And if that gets boring, there are also paddle boards and kayaks. Or you could take a ten minute drive to the Waikato River or the Volcanic Activity Centre.
It's pet – and human – heaven, with loads of safe places to swim, including the beach (read our tips on how to keep your dog safe at the beach), lake, and a heated outdoor pool. Although that one is strictly for humans. There's also a hot tub for the pet parents to enjoy while your pets are snoozing. Bliss!
Pet insurance for peace of mind
Before heading off to pet friendly accommodation in Taupo, ensure your cat insurance and/or dog insurance is safely in place. That way if something does go wrong you have cover, not only for accidents causing injury to your pet, but for third party liability too.
So if your cat claws the curtains or your dog sends ornaments flying, you won't have to pay the bills alone. That's true peace of mind for your stay in Taupo.