Facebook Posts
This message is only visible to admins.
Problem displaying Facebook posts. Backup cache in use.
Click to show error
Error: Invalid OAuth access token - Cannot parse access token Type: OAuthException
Is it a coincidence Love Your Pet Day comes back-to-back with Valentine's Day? Nu-uh, we think not. February is all about the lurrrve. From hairballs to furry cuddles! But let's spare a thought for the amazing cats and dogs behind bars in pet shelters. This Feb we're all about adopting an adult cat or dog; how about you?
Want to be a cat mum or dad? Why not adopt a cat with a full-size personality that's already familiar with the ways of the world? A grown-up cat can bring plenty of fully-fledged feline charm to your life.
Here are three top reasons for adopting a cat on Valentine's Day, Love Your Pet Day or any other day of the year, really…
#1. Adopting an adult cat can change your life
A cat can change your life furever.
Cats are (usually) extremely loving and attentive. They're highly attuned to their owner's emotional state and will respond to how you feel. They'll come and mew in a questioning tone to ask you why you're down or simply soak up the joy when you're elated.

Cats are our old friends – read how were cats domesticated -in fact, they became our friends twice throughout history!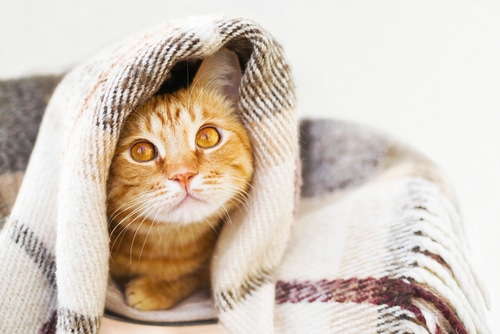 #2. Adopting an adult cat can change its life!
Adopting an adult cat from a shelter is giving them a second chance.
Many pets in shelters aren't there because their owners wanted to give them up. It may be because their senior pet parents lacked contingency plans for when they needed to move into a nursing home. Or, their owner may have died or had to move into a rental that didn't allow pets.
Also, pandemic pressures put plenty of people out of work or out of pocket, forcing them to downsize and say goodbye to well-loved furkids. Read why Kiwis are giving up pets for adoption.
The cat sitting behind bars waiting to love and be loved once again deserves that second chance and you could be the one they're waiting for.
Watch this video to see what cats' lives look like in a shelter:
#3. Adopting an adult cat can change the world
Adopting an adult cat makes the world a better place.
Supporting animal shelters can have an enormous impact on the everyday pressures they face. The reality is that way too many mouths to feed are overwhelming shelters across New Zealand. And it's usually the youngest pets who find their furever homes first.
Often those who get left behind don't find homes and get euthanised. Not only can your life improve by adopting an adult cat, but you could also be saving them from death row. This in turn relieves the emotional pressures on vet mental health and society in general.
Ready to adopt a cat? Here are ten ways to love your pet and make them feel totally at home.
Cat insurance for your new companion
Cat insurance might not be on your radar, but it's inexpensive and can help pay all sorts of health costs. For example, non-routine vet visits plus hospital stays, medication and surgery after an accident are all covered even by our most basic of plans. And that's just the tip of the iceberg.
Cats are our companions yet they're also rather independent. If they get into a cat fight, or knocked by a car or contract a fever, the last thing you want is to have to consider your bank balance over your cat.
This is why having fast, efficient and easy-to-understand online cat insurance at your fingertips is a great idea. Click below to get a quote.