Facebook Posts
This message is only visible to admins.
Problem displaying Facebook posts. Backup cache in use.
Click to show error
Error: Invalid OAuth access token - Cannot parse access token Type: OAuthException
The HUHA Ethical Gift Store is both an online and physical shop which allows pet parents to shop for their furkids, friends and family without any worries about whether they're buying responsibly.
A brainchild of HUHA NZ founder Carolyn Press-McKenzie, the online store reflects her deep commitment to sustainable and vegan living. Something that's gaining traction all around the world. Ethically sourced products which help to support animal welfare while enabling you to spoil the pets and people in your lives are a win-win in our books.
So, let's find out more about this ethical, pet-friendly store.
Q&A with HUHA Ethical Gift Store Manager
We sat down to chat to the manager of the HUHA ethical gift store, Christy Dobbs, to find out more. About how the store operates, what it offers, and why there's a need for it.
What are the reasons people should buy ethical gifts for their pets?
We have a lot of people coming in and asking "what does 'ethically sourced' mean?" Christy says. "Is it ethical to animals, Earth or what?"
So, know the HUHA Ethical Gift Store has a set of product guidelines outlining what they accept and don't. "People care about their pets and the quality of ingredients in the treats or toys they're providing. You want to shop for your pet in a similar way you'd shop for the rest of the family. Applying those same principles makes sense," says Christy.
She says when people come into a store like the HUHA Ethical Gift Store, they don't want to have to read the labels for everything they're buying. They want to be confident that HUHA has done the work in ensuring the products have been made to high ethical and sustainability standards.
If you're a potential customer, you can be confident that employees of the businesses behind the products are paid fairly. Also know these businesses use renewable resources whenever possible and they're usually local, which means there's less of a carbon footprint. They're vegan products too, so are cruelty free and don't contain wool or any animal materials.
As an example, there are loads of dog treats on the market. But Christy says that one of their suppliers "literally buys human grade ingredients and bakes them in her oven. You know the quality of ingredients – you'd have no problem eating it as a human. It's made with care and thought."
How does HUHA ensure everything is ethical?
Christy says that meeting their guidelines and deciding on what can be stocked is a three-step process.
Step 1 – Any new potential supplier partner receives store criteria, with must-haves such as a clean ingredient list, fair treatment of workers, responsible treatment of waste and no animal products or testing. On top of the must-have list of criteria, there's also "nice to have" criteria. This covers things like whether the product is biodegradable, if renewable resources were used, etc. From this, HUHA decides whether they're a good fit for the store. Christy says, "If we find an organisation that isn't consistent with HUHA values we don't work with them."
Step 2 – HUHA then has in-depth conversations with potential suppliers about their operations and where they get their products from. Larger operations are required to submit a range of documentation that proves their claims.
Step 3 – From there, HUHA looks closely at the ingredients and materials to check that it fits their ethical criteria.
When was the HUHA Ethical Gift Store born?
The gift store was started quite recently, in only November 2019. It's run by three HUHA staff members.
Christy says that before this, they relied on op shops to contribute funds for HUHA. "The ethical gift store was a natural extension of HUHA that allows us to put a light on the great small businesses out there doing great work."
HUHA founder Carolyn is a vegan. Christy says that Carolyn "had a vision of wanting to share with people how wonderful and accessible the variety of vegan products is. She really wanted an alternative to the disposable culture we live in.""
What portion of sales is fed back into animal welfare?
100% of all the profits fed back into HUHA's animal welfare work so people can feel good about the purchases they're making.
How do people buy from the HUHA Ethical Gift store?
There's a physical store at 233 Lambton Quay in Wellington and an online store that ships throughout New Zealand and overseas by special arrangement.
Visit the online shop here and the Facebook page here.
What gifts would you suggest from the store?
Christy says, "When someone has everything, what do you give them? A nice idea is a donation to something they care about. One of the top sellers is Gift of Life cards ($10-120) to support specific animal rescue activities."
Aside from the cards, some of the other popular gifts include: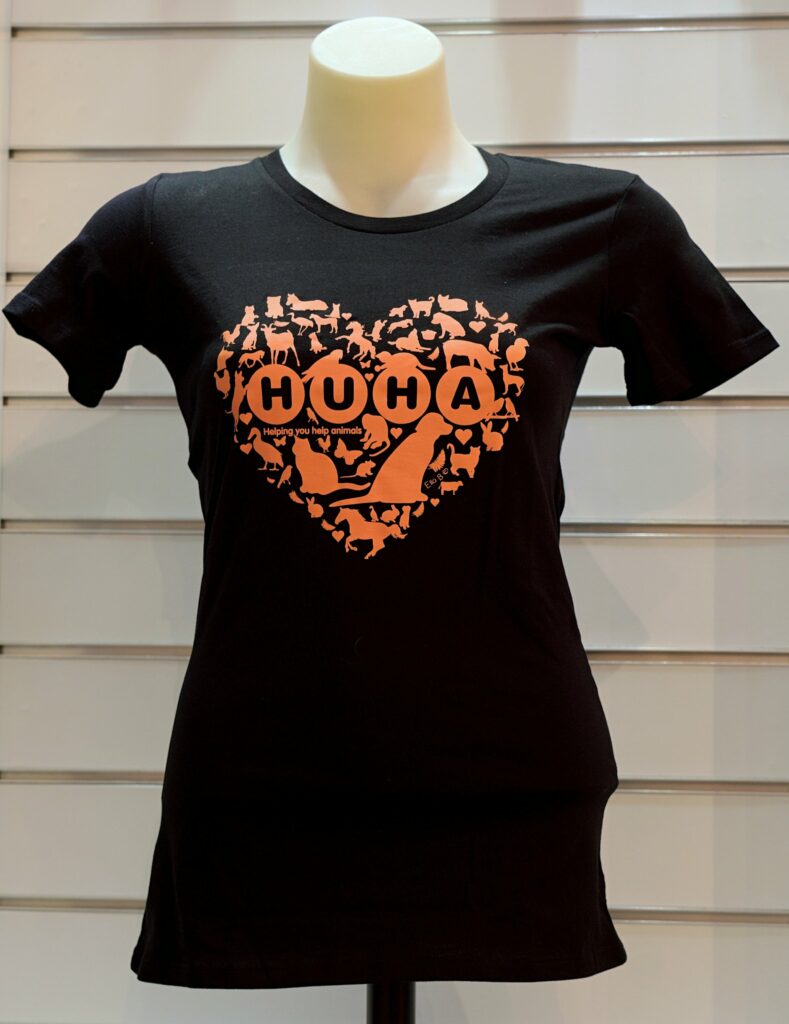 What else should people remember about buying ethically?
"Buying ethically is really more of a lifestyle than a seasonal choice," Christy says, "and the more all of us can be more mindful when purchasing products and services the better off we'll all be."
We couldn't agree more. Our PD Insurance team feels great about giving back to HUHA as one of their partners, just as you will when you buy through the HUHA ethical gift store. Whether you're buying for birthdays, just because, or for Christmas.
On the latter, you can never plan too early for the festive season! So read our guide to ethical Christmas gifts for pets here and get ahead of the curve this year.
Want to see more from the animal welfare champions at HUHA? Here's their advice on avoiding puppy mills in New Zealand.
Want to help HUHA?
Aside from donating directly or buying from the HUHA ethical gift store, you can adopt a pet to alleviate the pressure on HUHA. Find out if you're ready to adopt a cat with our insight.
If you do adopt a pet, remember that pet insurance can help to keep them safe and healthy. Check out our dog insurance plans and cat insurance plans.