Facebook Posts
This message is only visible to admins.
Problem displaying Facebook posts. Backup cache in use.
Click to show error
Error: Invalid OAuth access token - Cannot parse access token Type: OAuthException
Positive reinforcement for dog training? Yes! There are good reasons why it's an extremely popular method of getting your pooches well-behaved and happy. In fact, chances are that you've probably used positive reinforcement even if you don't know exactly what it is.
Which is great news, because research shows positive reinforcement has a range of benefits, including much lower stress levels than other methods of training can cause.
So what's positive reinforcement for dog behaviour and training all about?
What is positive reinforcement in dog training?
Positive reinforcement is also sometimes called reward-based training. Essentially, it means that you reward the behaviours you want and ignore the ones you don't.
So if your dog comes when you call him, you'd give him a treat. Or you'd give them some praise and attention when they stop jumping or barking.
Food and praise are the most commonly used rewards, although play time is a good one as well. Because, after all, that's what dogs value the most! Snacks and attention from their humans.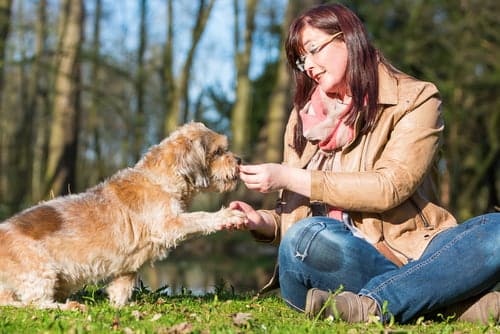 The benefits of positive reinforcement for dogs
In 2020, a Portuguese study showed that companion dogs trained with positive reinforcement methods were healthier and happier than dogs trained with aversive methods. For instance, they displayed fewer stress-related behaviours and lower cortisol levels.
Dogs trained using positive reinforcement also adapted better outside the training environment than other dogs.
In fact, dogs trained using aversive methods (like giving them a smack when they do something wrong) have been shown to be up to 15 times more likely to show stress than dogs trained with positive reinforcement.
And of course, having a dog who's both well-adjusted and obedient is a pleasure as a dog owner. It gives you the opportunity to do cool outings like off-leash hikes or beach trips (read our tips on keeping your dog safe at the beach), and means that your bond will go from strength to strength over the years.
How to implement positive reinforcement for dogs
Positive reinforcement is easy to understand, but not always quite as easy to implement! To get the best results, there are a few basic principles you should follow.
Firstly, remember that your reward should be immediate. This helps the dog make the connection between the behaviour and the reward. So praise or give a treat as soon as your dog shows the behaviour you want to encourage.
Secondly, keep to short commands. Don't use long sentences like "Rover, come over here and sit down nicely for me." Just say "come" and "sit." Make it easy for your dog to understand what you're asking!
Thirdly, remember to be consistent. Everyone in your household should use the same commands so that there's no confusion for the dog.
Lastly, slowly phase out treats. Initially, food can be a great reward. You might use it every time your dog sits, comes when called, or stops barking when asked. Over time, you'll want to tone this down to mostly verbal praise or a pat, with the occasional treat too.
Keep in mind that dogs develop in stages, just like kids. Or adults, come to think of it. Taking advantage of these milestone stages can help with your training. Toilet training is easier with a puppy than a mature dog, for instance. Check out these top tips for puppy sleep training your new pooch.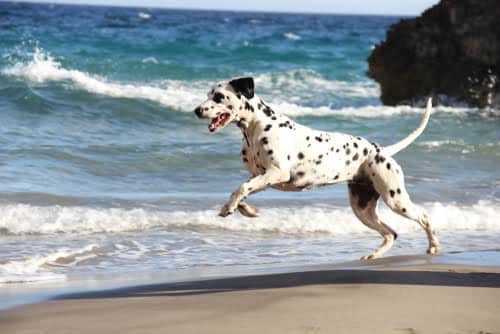 Other positive training tips
Luckily with positive reinforcement, you can teach an old dog new tricks. Here are some of our other training articles to get you started:
Also, don't be afraid to bring in reinforcements! Here's how to find a great puppy training school.
Dog insurance – another big positive
You can save a pretty penny by taking out dog insurance. From medical treatments after unexpected accidents to routine care vet appointments, pet insurance is there for you. So you can spend your hard-earned dollars on the best treats for all that positive reinforcement you'll be working on.
At the time of writing, we're offering free cat insurance or dog insurance of one or more months (depending on your pet's age) – and with no lock-in contracts.
Why not give us a go and get insured before any 'pre-existing conditions' begin emerging?!