If you've recently brought a puppy into your life, you're in for a fun journey of learning, bonding, and lots of laughs. All the playtime aside, how do you know what puppy health care milestones you must work through to ensure your fur kid gets the absolute best start in life?
To give your pup the best chance of growing into a strong and healthy adult dog, you need to work closely with your vet to tick a number of medical treatments/procedures off your list.
Each will happen during the first year and are allowed from this point onwards:
Vaccinations – from 6 weeks of age (to occur several times in the first year then annually)
Desexing – from 6 months of age (to occur once only)
Microchipping – from around 8 weeks of age (to occur once only)
Worming – from 2 weeks of age to occur (several times in the first year then every 6 months or so)
Flea treatment – from 6 to 8 weeks of age (as above)
Whether you're a first time dog owner or not, here's what you need to know about common puppy health care checks and procedures during the year one of their life.
First things first, puppy vaccinations.
1. Schedule of puppy vaccinations
Puppies seem to spend a lot of their early days getting 'the jab' at the vet. And though you might feel a little bit sorry for them, know that you're doing the best thing for their long term health and safety.
If you're bringing home an adopted dog or have bought a puppy, you'll need to make sure you get their routine vaccinations in order. Here's the normal puppy vaccination schedule in New Zealand:
6 weeks: first core vaccination (Parvovirus, Distemper, Hepatitis, and Parainfluenza)
9-12 weeks old: booster for core vaccinations (plus first Leptospirosis vaccination if needed)
12 weeks old: final booster for core vaccinations (plus second Leptospirosis vaccination and canine cough if needed)
If your dog is likely to visit kennels, dog parks, daycares and so on, it's advised to get the canine cough vaccination. The Leptospirosis vaccination isn't required for all dogs, but many vets recommend it for farm dogs, especially on the North Island. Speak with your vet to decide if your pup requires it or not.
After this, your puppy will need to visit the vet yearly to keep their vaccines up to date and to help ensure optimal puppy health care.
Why are puppy health care vaccinations important?
Why are puppy vaccinations – and their timings – important for puppies? Vaccines protect your puppy from both contracting and spreading diseases. Parvo, for instance, is highly contagious and vaccinations can help to control outbreaks.
When puppies are born, they have some immunity from drinking their mother's milk. This lasts for a few weeks, but vaccinations are what provides long term protection against disease.
A series of vaccinations increases the chances of your dog having long term immunity against key illnesses. So it's important to make sure you take your puppy for all of their vaccinations.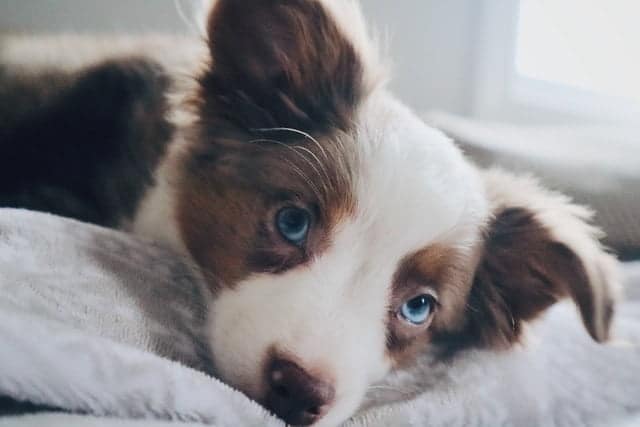 2. Desexing
When to desex your puppy depends on the dog breed (here's a great flow chart to help guide you). At its most basic, timings are:
Small breeds: usually between 6 and 9 months
Large breeds: usually between 8 to 14 months
Put simply, bigger breeds reach sexual maturity later and so are normally neutered or spayed later than small dogs. That said, a good rule of thumb is that most male dogs should be neutered between six and nine months. Female dogs should be spayed no earlier than six months, and preferably closer to nine months.
However, even though desexing is said to be best practice puppy health care (if you're not a breeder), it can be a complicated decision. We won't go into it here because we've written all about this particular medical treatment in our neuter and spay article here.
3. Microchipping
Getting a dog microchip is another important health consideration. Not only is it required by Kiwi law, it helps you be contacted as the owner if your dog is ever found after being lost or stolen. The latter happens more often than you think – read out 'Stolen Dogs in New Zealand' article.
Your puppy can get a microchip from eight weeks onward and it's a simple procedure that takes seconds. It gives them no more pain than the simple jab of their vaccinations.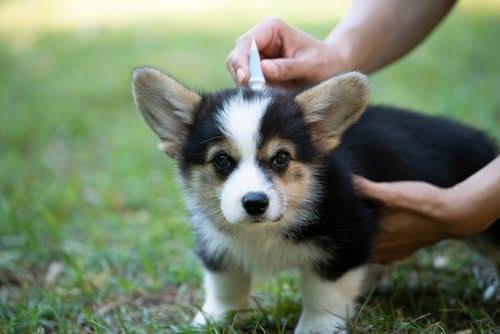 4 & 5. Puppy worming and flea treatments
Worms are common in puppies, and you'd probably be surprised at how frequently vets recommend you should worm them. Worming treatments are even more frequent than puppy vaccinations!
Here's an approximate puppy health care worming schedule (depending on the treatment you use):
2 to 12 weeks: approximately every two weeks
12 weeks to 6 months: approximately every month
6 months and onwards: approximately every 6 months
Fleas are another concern with puppy health care. You want to stay on top of flea prevention treatments so your puppy doesn't get itchy (and possibly sick) but also so fleas don't start setting up shop in your home.
Once your puppy is 8 weeks old, you can start flea treatment. Be 100% sure the treatment option you use is safe for puppies, not just adult dogs. If in doubt, your vet will be able to advise on a suitable choice.
How regularly you use flea treatment will depend on the specific product. Some last only a couple of weeks or a month, whereas others last from three to six months. Just be sure to stick to a regular schedule once you've found a flea treatment product you like.
Other key puppy health care milestones
But wait, there's more – there are other key health milestones you should jot into your calendar!
For example, dental care. Yep, even your dog needs good sparkling whites. Puppies should have their teeth brushed daily from early on in life. And, you should also have your puppy's teeth cleaned professionally at least once a year to avoid gingivitis, tooth decay, and even liver problems.
Read about dog teeth cleaning for more detailed guidelines.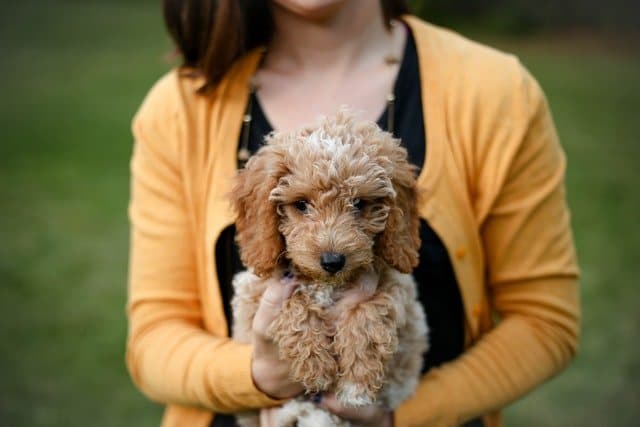 Pet insurance for puppy health care
Dog insurance is another key investment in your puppy's health. And the earlier you get in the better, before pre-existing conditions arise – because they won't be covered by your insurance provider.
Depending on the type of PD Insurance member policy you choose, your insurance could provide cover for routine dog and puppy vaccinations as well as vet visits, hospitalisation and much more. Meaning you have financial protection in place if they have an accident or get sick.
Plus, at the moment PD Insurance even has puppy insurance that gives you up to eight weeks of free cover (for pups aged 6-30 weeks) with no waiting periods, no excess and no lock-in contract. When we say free we really mean it – $1,000 of cover with no excess to pay if you have to claim on it.
And for parents of older dogs, you'll get one month free dog insurance if you buy a member pawlicy online. Again, with no lock-in contracts. It's a no brainer!