Facebook Posts
Error: Invalid OAuth access token - Cannot parse access token Type: OAuthException
Labrador puppies Shilo and Rex are best buds that love sleeping on the porch deck when they're not out making mischief. But not so long ago both happy healthy puppies got into a pickle… First there was Shilo's broken bone that required immediate surgery. And then there was Rex and the dead bird that caused a terrible tummy upset.
Before we get into all that though, let's introduce these wonderful furkids in a bit more de-tail. Better yet, we've talked to their human mum Sharon Poynton, who's a PD Insurance member. Sharon shares some insider info about her adorable Labrador puppies and how they become brother and sister.
Meet Shilo the chocolate Labrador puppy
Shilo is the first of the two Labrador puppies to join the family. She's a chocolate Lab named after another dog the family had previously. When it comes to Labrador fur colours chocolate is the rarest colour of them all!
Shilo was born in Tauranga and comes from a professional breeder. Read more about finding ethical dog breeders in New Zealand if you're looking for your own fantastically furry family member. Buying from the right one will save you a host of potential issues in the future.
Labrador puppies Shilo and Rex join paws
Shilo's family wanted to make sure she had the best of company and decided she needed a four legged friend. So just a month after Shiloh arrived, she got her very own adopted brother. It took a few weeks before the family settled on a name for the new pup, and eventually the kids helped choose one: Rex.

Rex is a yellow Labrador that came from a breeder in Auckland. Although he's a month younger than Shilo he's already getting bigger than her.
I had always wanted a choc lab so was very excited to get Shiloh.
We decided that she needed some company so a month later Rex, our golden male lab, arrived. They get on so well and it's so nice they can grow up together.
– Pet parent and PD Insurance member Sharon Poynton
Shilo likes mischief and often leads the way in trying to escape. Rex on the other hand loves chewing. He's chewed the internet cables under the house, the deck stairs and just about anything else that gets left outside. He even has his own special quirk: he loves chewing stones! He's also a big digger and loves burying his bones in good hiding spots.
Labrador puppies are NZ's top dogs
Both Labrador puppies adore their humans and are great with their human siblings. They like playing games like fetch, getting muddy and finding all sorts of mischievous things to get up to.

Sharon says, "Shilo and Rex like to chase the cats too. When they were smaller they even caught a couple of my chickens – probably trying to be good duck dogs but I think they've outgrown that now. We also have a miniature Chihuahua. She likes to put the dogs in their place. While our two Labrador puppies still sometimes jump up, all it takes is a bit of a run to keep them calm."
Read more about the Labrador personality to see why they're New Zealand's favourite dog!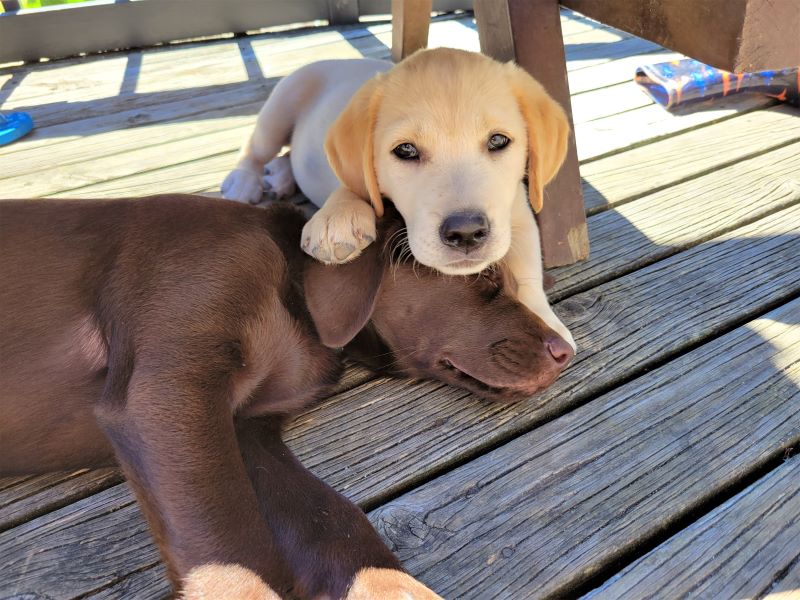 Labrador puppies get pet insurance just in time!
Not only does PD Insurance offer one month of pet insurance free if they sign up online, it offers even more to puppies and kittens between six weeks and one year old (with no lock-in contract). Sharon signed up Shilo and Rex and one month later their policy played a big role in giving each pup a softer landing…
The pair of pups were having a good run around on a hill when Shilo slipped and Rex ran right into her, breaking her hip ball joint.
It was a very stressful time but I had just signed up with PD pet insurance the month before so that was such a relief!
The femoral neck of her left hand side hip joint was fractured and she had to undergo corrective surgery. After surgery Shiloh had to be kept still for the first few weeks (no walks!). 10 days later she was allowed to gradually begin walking again, but sadly the two Labrador puppies had to be kept apart for a full month.
Although the surgery had come out of the blue and cost over $3,000, PD Insurance paid in full. This meant Sharon and her family could focus their efforts on Shiloh's recovery rather than medical costs. And because she was still under the free period of her puppy plan, it hadn't cost a cent.
Shilo has recovered so well that the only telltale sign of having had surgery is a bald patch where the fur had to be shaved. She's also much calmer since it happened, but apparently in a good way.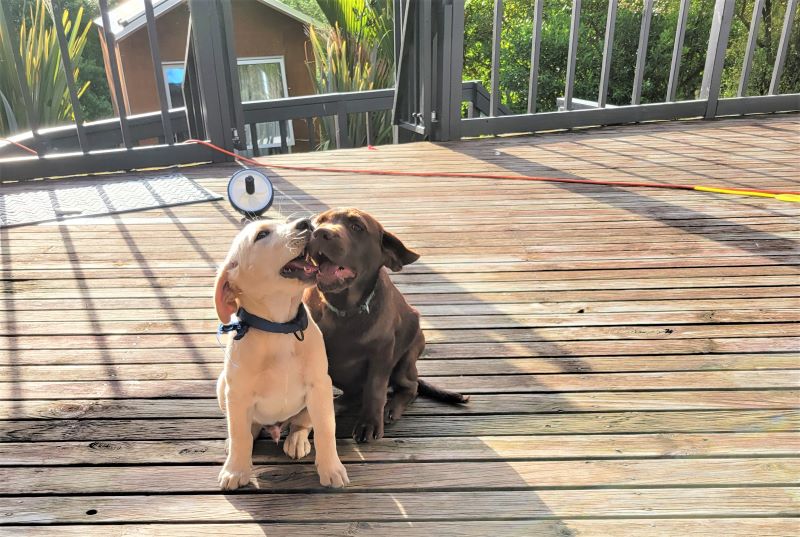 Rex swallows a bird
Now you might think one big event is enough for any family, but just one month after Shiloh's accident, Rex ate a dead bird. As you can imagine, dead birds contain all sorts of bacterial hazards that can be dangerous for Labrador puppies.

Needless to say poor Rexie had to see the vet for a bout of tummy upsets and diarrhoea. Luckily his vet gave him a round of antibiotics and he fully recovered. The cost of the vet visit and prescription medicine came to almost $500. Both these costs are covered in Rex's puppy plan so PD Insurance reimbursed most of the bill, minus a small excess.
Sharon says, "I felt a bit guilty claiming twice so quickly but PD Insurance made it so easy and were very helpful." Every pet deserves a softer landing and PD Insurance was glad to lend a helping paw.
Labrador puppies all deserve pet insurance
Sharon says "I think the value is great. I like that it is so easy and you don't have to fight to make a claim."
Does your dog or cat have a pet insurance plan? Click below to get started today then read more about how PD Insurance makes pet claims easy.