Facebook Posts
This message is only visible to admins.
Problem displaying Facebook posts. Backup cache in use.
Click to show error
Error: Invalid OAuth access token - Cannot parse access token Type: OAuthException
Designer bags, clothes and shoes come with a hefty price tag – and so do designer dogs. Increasingly so! The popularity of these hybrid dog breeds is going from strength to strength. And on top of this (thanks in large part to COVID) the heavy demand for such designer pups outweighs the supply.
The current environment has opened up Pandora's box by making both purebred and hybrid dog breeds more valuable ever. You can expect to be asked to pay anything as much as $7,000 for a Cavoodle or Labradoodle.
But before we get too deep into the pros and cons of becoming a hybrid dog breed pup parent, let's unpack what they are.
What are hybrid dog breeds?
Hybrid dog breeds are typically called 'designer breeds' or 'designer crossbreeds'. They're essentially designed by breeding two different purebred dog breeds to make a new breed.
Technically all purebred dogs are already 'designed' through breeding techniques. But unlike designer breeds that are bred from parents with distinctly different breed traits, purebreds come from parents that have the same traits.
Here are some examples of designer / hybrid breeds and the dog breeds they come from:
Cavoodle. Cavalier King Charles Spaniel x Poodle
Cockapoo. Cocker Spaniel x Poodle
Goldendoodle. Golden Retriever x Poodle
Labradoodle. Labrador Retriever x Poodle
Puggle. Pug x Beagle
Maltipoo. Maltese x Poodle
Mal-shi. Maltese x Shih Tzu
Papshund. Dachshund x Papillon
Schnoodle. Schnauzer x Poodle
Yorkipoo. Yorkshire Terrier x Poodle
Pomchi. Pomeranian x Chihuahua
Cheeks. Chihuahua x Pekingese
You may have noticed most of these hybrid dog breeds have one poodle parent. Who knows, a dog DNA test in NZ might show that your dog is an accidental designer dog.
Back to the Poodles, though. Read on to find out why hybrid dogs are so often Poodle crosses. Yes poodles have a secret superpower, and like Samson – it's all about hair.
But first, watch this video and popular designer dogs in action:

Benefits of hybrid dog breeds
What are the benefits of hybrid dog breeds? Well, you take two breeds that are super-duper cool anyways then mix them and hey presto you have the best of both worlds, literally!
For example, a Labrador makes a great assistance dog but its fur can cause allergies. Whereas Poodles don't have fur at all – they have hair! This makes them hypoallergenic, which can be a lifesaver for allergy sufferers.
Combining these two perky pups gets you a breed of dog that can help people with disabilities maintain a higher level of independence without causing itches and sneezes!
Another benefit to hybrid dog breeds is that cross breeding provides a more diverse gene pool than purebred dogs, often resulting in fewer genetic problems.
Purebred dog breeds are bred from a limited gene pool to keep the family traits carrying through to new litters. A lack of diversity in genetics can do strange things to the genetic code, like leading to specific hereditary conditions. Like, for example, hip dysplasia in dogs, arthritis in dogs and IVDD in Dachshunds.
Drawbacks of hybrid dog breeds
Some major drawbacks of designer dog breeds are the cost, possible health concerns and risks with encountering the black market (like puppy scams) and inhumane breeding.
For instance, a common concern in New Zealand is puppy mills where dogs are farmed like conveyor-belt production line objects.
The simple fact is that dogs mate according to natural cycles of reproduction and puppies take time to grow, which puts lots of strain on the mum dog's body. Putting this cycle into overdrive turns breeding dogs into sweatshop labour. In addition, very often the breeding dogs are locked in small cages without proper food, socialisation or exercise.
When this happens they're effectively prisoners – a harmful situation that can lead to significant behavioural issues as well as health issues.
Unethical dog breeders not taking care of parent dogs' health can result in physically unhealthy puppies too. They can also neglect socialising puppies or letting them exercise, causing unwanted behavioural problems down the breeding line.
You and I can help stop this trade by knowing how to buy a puppy safely in New Zealand. Taking the right steps towards finding ethical dog breeders helps prevent this form of animal abuse.
Hybrid dog breeds are also at higher risk of being stolen because of their black market resale value and for use as breeding dogs. Read about stolen dogs and preventative steps you can take.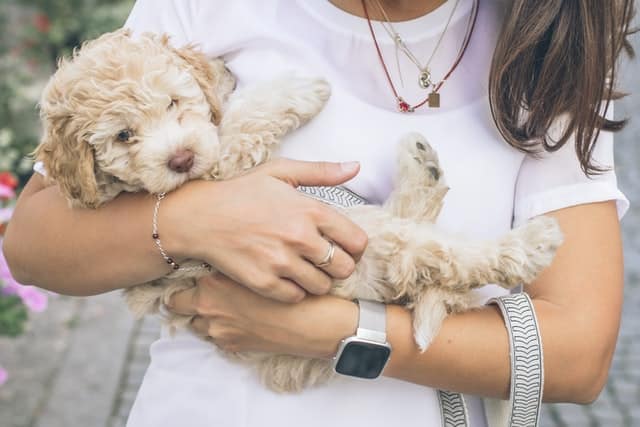 Dog insurance to give your pooch a softer landing
Like all dogs, hybrid dog breeds deserve the safety net of a good pet plan. Pet insurance helps cover medical health costs for all kinds of pets, while protecting your pocket and bringing you peace of mind. Depending on the plan you choose, cover includes non-routine vet visits, surgery, medication, dental, hospitalisation and more.
Did you know that with us if you sign up online you can get one or more months of FREE dog insurance or cat insurance? No strings attached and no lock-in contracts, just the freedom to safeguard your furkid without worry or hassle.
Click below to get started.